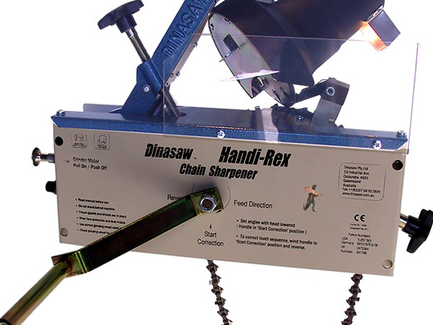 DINASAW FULLY MANUAL CHAIN SHARPENER HANDI-REX
SKU CSSHANDIREX
Product Details
Handi-REX Chain Sharpener
This machine has all the features of the T-REX without the electronic control system. Simply turn the handle, and the Handi-Rex will sharpen all chain cutters, both left and right in the one pass. Any top plate angle from 0° to 35°. Irregular chains (i.e. chains with 2 left or right cutters in succession) can be easily sharpened. All the efficiencies of the T-REX are built into the Handi-Rex.
Speed Manual (up to 40 cutters per minute).
Accuracy (cam operated feed).
Cool Grinding.
Versatile (most chain styles and sizes)
Value for Money.
Specifications
| | | |
| --- | --- | --- |
| Model | Handi-Rex | T-REX |
| Chain Size (pitch) Min | 1/4" | 1/4" |
| Max | 3/4" | 3/4" |
| Chain Length | Unlimited | Unlimited |
| Chain Type | Standard & Chisel | Standard & Chisel |
| "Scratcher" Chain | Yes | Yes |
| Feed Speed | 30 Cpm* / Variable | 30 Cpm* |
| Grind Angles Top Plate | 0° to 35° / Variable | 0° to 35° / Variable |
| Side Plate | 0° to 38° / Variable | 0° to 38° / Variable |
| Grinding Wheel Diameter | 125mm (5") | 125mm (5") |
| Thickness | 3,4,5,8mm (1/8",5/32",3/16",5/16") | 3,4,5,8mm (1/8",5/32",3/16",5/16") |
| Type | Resin Bonded (opt. Diamond/ABN**) | Resin Bonded (opt. Diamond/ABN**) |
| Speed | 6500 Rpm | 6500 Rpm |
| Power Std. | 12 - 14 VDC - 12 amp | 12 - 14 VDC - 12 amp |
| Opt. | 240 / 110 VAC Converter | 240 / 110 VAC Converter |
| Weight | 18kg (40lbs) | 22kg (48lbs) |
| Volume ( Packed) | 0.06m3 (0.9ft3) | 0.06m3 (0.9ft3) |
* Cutters per minute ** Cubic Boron Nitride
This Machine is a special order and takes 3-4 weeks to ship
Save this product for later