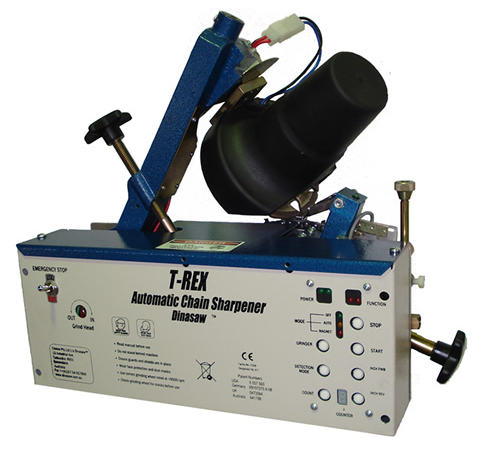 DINASAW FULLY AUTOMATIC CHAIN SHARPENER T-REX
SKU CSSTREX
Product Details
The T REX chain sharpener is a fast and accurate machine for sharpening chains in the workshop or in the field. Fast operation and simple adjustments make it an ideal machine for the professional forestry worker or saw shop where time and accuracy are important considerations.
Just look at these features:
Increased Profits Correctly sharpened chains will greatly increase bar and chain life. Automatic operation relieves staff for other duties.
Fast Sharpen up to 60 teeth per minute.
Accurate Cam operation ensures accuracy, consistency and reliability.
Intelligent Automatically detects the hand of cutters and corrects the grind angle to suit.
3 Operating Modes Allows for sharpening most chain styles.
Easy to use Simple adjustments for cutter placement and metal removal. Little or no adjustments when changing between most chain.
Versatile Any size and type of chain can be sharpened. ¼" right through to ¾". Any top plate angle between 0° and 35°. 'Scratcher' chain as well. 12- 15 volt DC operation.
Depth Gauges Accurately lowers depth gauges (separate operation)
Reliable Ball bearings, hardened cams and bushes with sealed pivots limit wear.
Upgradeable The latest software can be installed via Infra Red transfer.
Options CBN wheels grind cooler, maintain profile and reduce wear. 240 and 110 volt AC switch mode power supply. Swivelling wall mount bracket. Tripod floor stand. Infra Red computer interface. (Software upgrade) Multimedia instruction CD.
Specifications
| | | |
| --- | --- | --- |
| Model | Handi-Rex | T-REX |
| Chain Size (pitch) Min | 1/4" | 1/4" |
| Max | 3/4" | 3/4" |
| Chain Length | Unlimited | Unlimited |
| Chain Type | Standard & Chisel | Standard & Chisel |
| "Scratcher" Chain | Yes | Yes |
| Feed Speed | 30 Cpm* / Variable | 30 Cpm* |
| Grind Angles Top Plate | 0° to 35° / Variable | 0° to 35° / Variable |
| Side Plate | 0° to 38° / Variable | 0° to 38° / Variable |
| Grinding Wheel Diameter | 125mm (5") | 125mm (5") |
| Thickness | 3,4,5,8mm (1/8",5/32",3/16",5/16") | 3,4,5,8mm (1/8",5/32",3/16",5/16") |
| Type | Resin Bonded (opt. Diamond/ABN**) | Resin Bonded (opt. Diamond/ABN**) |
| Speed | 6500 Rpm | 6500 Rpm |
| Power Std. | 12 - 14 VDC - 12 amp | 12 - 14 VDC - 12 amp |
| Opt. | 240 / 110 VAC Converter | 240 / 110 VAC Converter |
| Weight | 18kg (40lbs) | 22kg (48lbs) |
| Volume ( Packed) | 0.06m3 (0.9ft3) | 0.06m3 (0.9ft3) |
* Cutters per minute ** Cubic Boron Nitride
This Machine is a special order and takes 3-4 weeks to ship
Save this product for later